We recognize that all our patients are unique and deserve to receive dental care that reflects their individual needs. Our experienced and talented dental team is committed to working with you and your family to create a comfortable, stress-free, and rewarding dental experience every time you visit our practice.
We are pleased to welcome you and your family, and we look forward to working with you.
---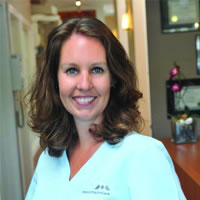 Erin D.
Registered Dental Hygienist
I earned my Bachelor of Science (dental hygiene) from UBC in 2012 and joined Dr. Klimek's team in 2013. I provide comprehensive assessment of my patients' oral health in coordination to overall health, and plan a systematic periodontal treatment plan, all in a calm and light-hearted manner. I enjoy interacting with patients of all ages and finding the individuality in people's treatment plans, which allows me to tailor the care I provide to them.
This office has the best staff! Everyone works well as a team and has a lot of fun while doing so. The staff and doctors are positive, upbeat, and all hardworking individuals, which makes it an enjoyable environment for patients and staff alike.
I am a mother of three young boys, of which two are twins. My husband and I, along with the kids and dog, love taking advantage of the simplicity of the North Shore beauty, beaches, and family fun. We enjoy traveling to the Shuswap area to the family cottage for much-needed rest and relaxation when we can, and try to just keep up with the three very active little ones.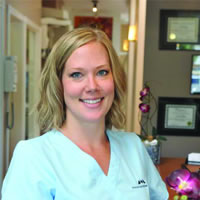 Erin Z.
Registered Dental Hygienist
I completed my CDA training at Camosun College in 2001. Then I underwent the orthodontic module at UBC in 2002, and worked as an orthodontic CDA for eight years before returning to school to complete a three-year program in dental hygiene at Vancouver Community College. Since joining Mountainview Dental Centre, I have focused all my skills on helping my patients maintain their optimal oral health. I enjoy connecting with people and putting nervous and anxious patients at ease.
Here at Mountainview, we all have a high standard of care and respect each other. Working as a team is so important in dentistry, and I feel we effectively manage to do that.
When I'm not at work, I enjoy cycling around Vancouver, beating my husband Jay at Scrabble, and keeping up with my energetic toddler Eva and my dog Ruby.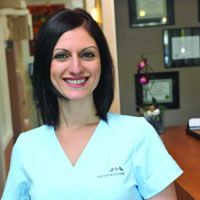 Nooneh
Dental Hygienist
I completed my certified dental assistant certificate in 2000 and attained my registered dental hygiene diploma in 2006, the same year I joined the Mountainview team! I provide patients with comprehensive oral health assessments, and plan and implement dental hygiene treatment. I find helping our patients improve their oral and systemic health to be very rewarding.
I feel fortunate to be part of a team with such amazing clinicians. Our doctors all take immense pride in their work. I love that they are so diverse in their dental knowledge and have so much to share with their staff. I'm continually learning and feel fortunate to work alongside each one of our skilled dentists.
I was born, raised, and currently reside in North Vancouver with my husband and two boys. Outside of dentistry, I'm a fitness enthusiast and have a true passion for overall health and wellness.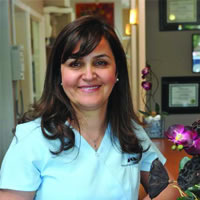 Fatima
Certified Dental Assistant
I joined the dental field in 2003, completed my dental assistant certification and orthomodule, and became a part of the Mountainview team in 2014. I assist our dentists in all clinical operations and all related matters, including ensuring that our patients have an exceptional experience in our office. I feel fortunate to say that I genuinely enjoy everything about my job!
In addition, our office is a great working environment, with the best dental team I have ever worked with. We offer advanced technology but never forget the all-important human touch!
In my free time, I always enjoy spending time with my husband and my children. I love Vancouver's great outdoors, jogging, walking long distances, yoga, and relaxing at home.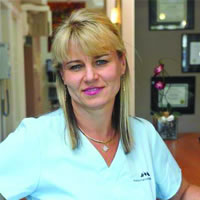 Dorota
Certified Dental Assistant
I have been with Dr. Klimek since 2003. I worked as a chairside assistant for 10 years before completing my certified dental assistant certificate in 2002. I have done extra CDA training in prosthodontics and orthodontics. I am happy to communicate with my patients in both English and Polish.
I enjoy working with our dedicated dental team in a professional and supportive environment. I appreciate that we are able to offer such a wide range of dental services and solutions for patients.
I live in North Vancouver and I enjoy spending time with my family outdoors. I also love to travel. My daughter is continuing the family tradition in the dental field. She is completing her dentistry degree in Australia.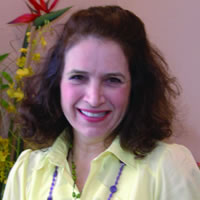 Vicki
Receptionist / Treatment Plan Coordinator, Certified Dental Assistant
I have been with Mountainview Dental Centre since the beginning! I was originally trained as a certified dental assistant and now I use my years of dental experience as the dental receptionist and treatment plan coordinator. I enjoy working directly with patients to help cooridnate all aspects of their dental care.
I am a longtime resident of the North Shore. In my spare time, I enjoy hiking local trails and doing yoga.